All started 9/3/2013 on a White 2012 SMT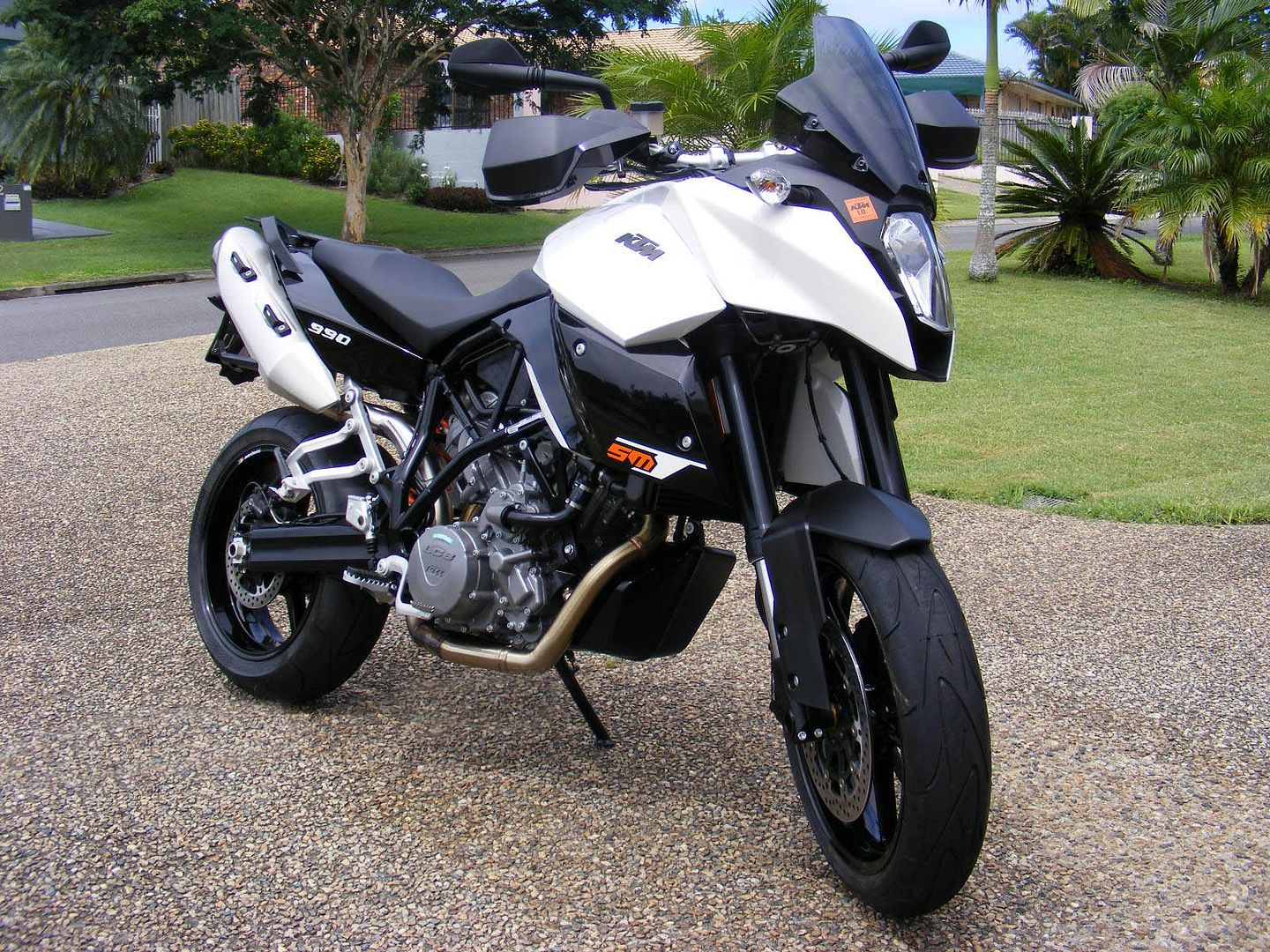 I am not going to go into each mod in detail if I have already posted the mod in the SMR modification list.
viewtopic.php?f=13&t=3299&p=9087#p9087
I will post new mods here that apply directly to the SMT.
List of mods in mind, may not in the order below but will work through them & post the results.
1/ Weight reduction, in progress
2/ Fork height adjustment, done
3/ Bar vibrations, done
4/ Build a custom fuel map for a completely standard SMT, done in map section
5/ Fit my PCV & Auto Tune A/T300, done
6/ Fit Leovince pipes with carbon heat shields, in progress parts ordered
7/ Fit my DNA stage 3 air box, in progress
8/ Remove second flies, in progress
9/ Fitted my STM slipper clutch, fitted at 1000kms done
10/ Get some colour on to the bike, anyone spot my white carbon side covers? Cover now gone for painting
11/ Fit my second fan conversion, Done
12/ Running a 42T rear wheel sprocket at the moment, ordered in a 43T to test. The reason I have gone for the bigger rear sprocket is to stop chain slap below 3000rpm & to reduce the bikes wheel base.
13/ RC8 320mm front brake rotors conversion, rotors here waiting on bolts.
14/ Super Moto head light conversion using a 2013 200 Super Duke head light
Hope have all that done in the next week or two.
1/ First mod had to be a weight thing, coming from the modified 990 SMR I could feel the difference between straight away.
Weight differences between my standard STM & my modified SMR.
2012 standard SMT = 105.3kgs on the front wheel fully fuelled. Verse my 2010 SMR was 97.2kgs fully fuelled, after weight reduction.
2012 standard SMT = 103.5kgs on the rear wheel fully fuelled. Verse my 2010 SMR was 96.6kgs fully fuelled, after weight reduction.
So the standard 2012 SMT is 15kgs heavier than my modified SMR when both are fully fuelled, now I know why my SMR felt so nimble, I am busy working out what weight I can get off the SMT, should easily get off +12kgs.
I started off removing & weighing items to see what I can get off, the battery was my first choice as I have a Shoria lithium iron battery to throw into the SMT.
Standard battery with rubber carrier
Shoria lithium iron battery
Shoria battery
As I never lift removing the rear pegs would save me.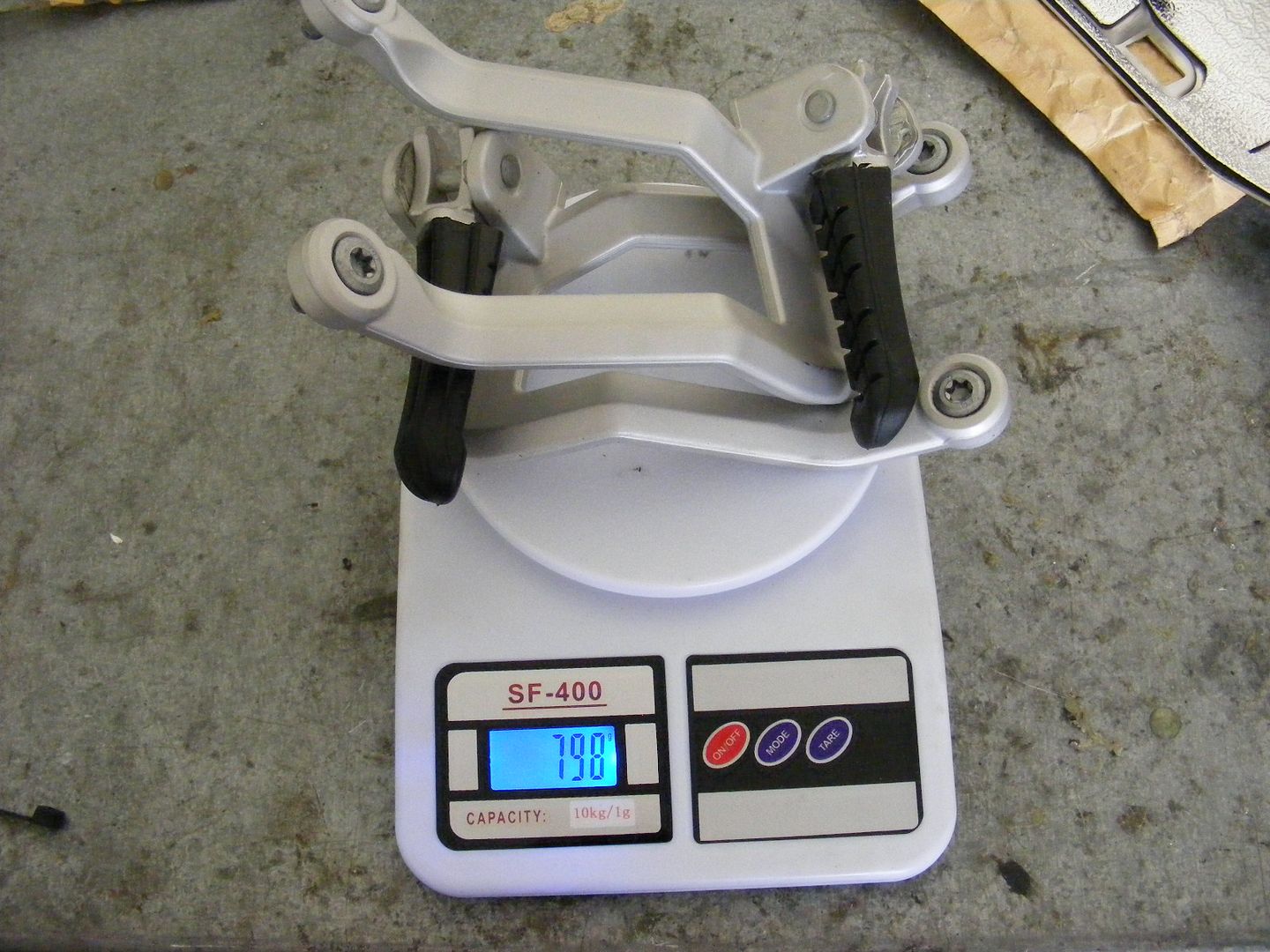 One metal heat shield weighs.
The 4 tie strap brackets.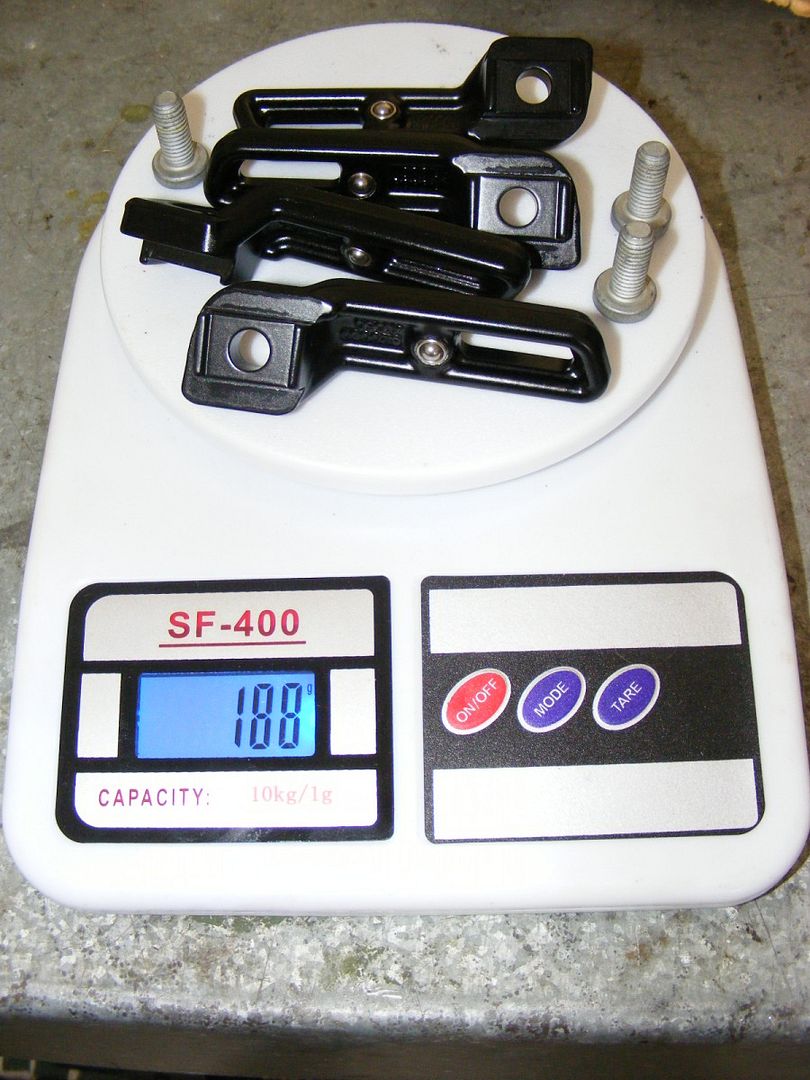 The 2 heat shields + tie brackets + rear pegs combined will save.
When I get the SMR rear exhaust hangers + rails with carbon cover I will get some more weight off, I will up date this post as weight comes off.
So far 5511kgs off, I know my Leovince pipes will remove a further 4.5kgs off the bike, I have set myself a target of 12 + kgs weight loss.
These also arrived from Germany yesterday my SMR carbon exhaust heat shields, beats the 2.5kgs of SMT heat shields & brackets.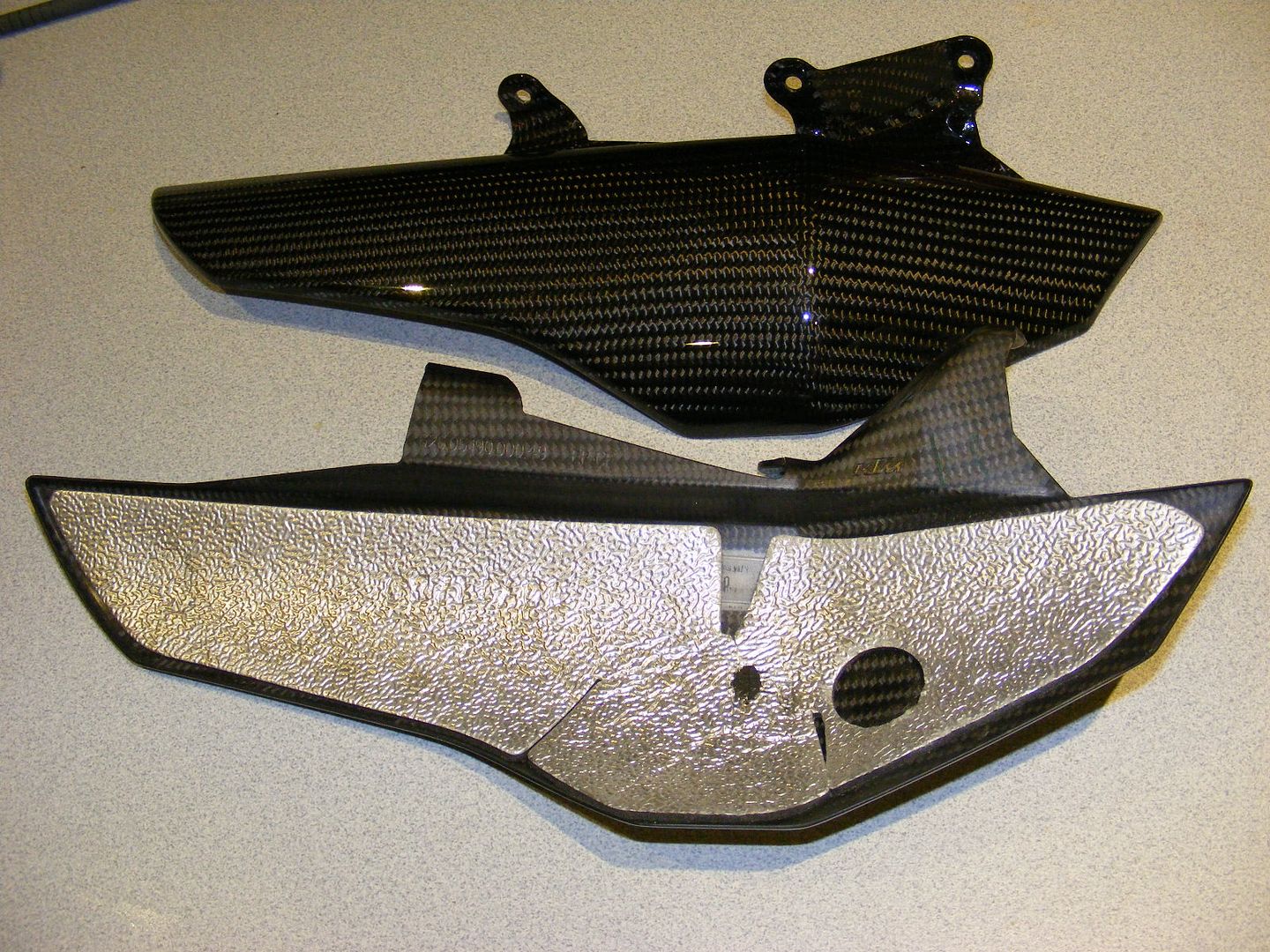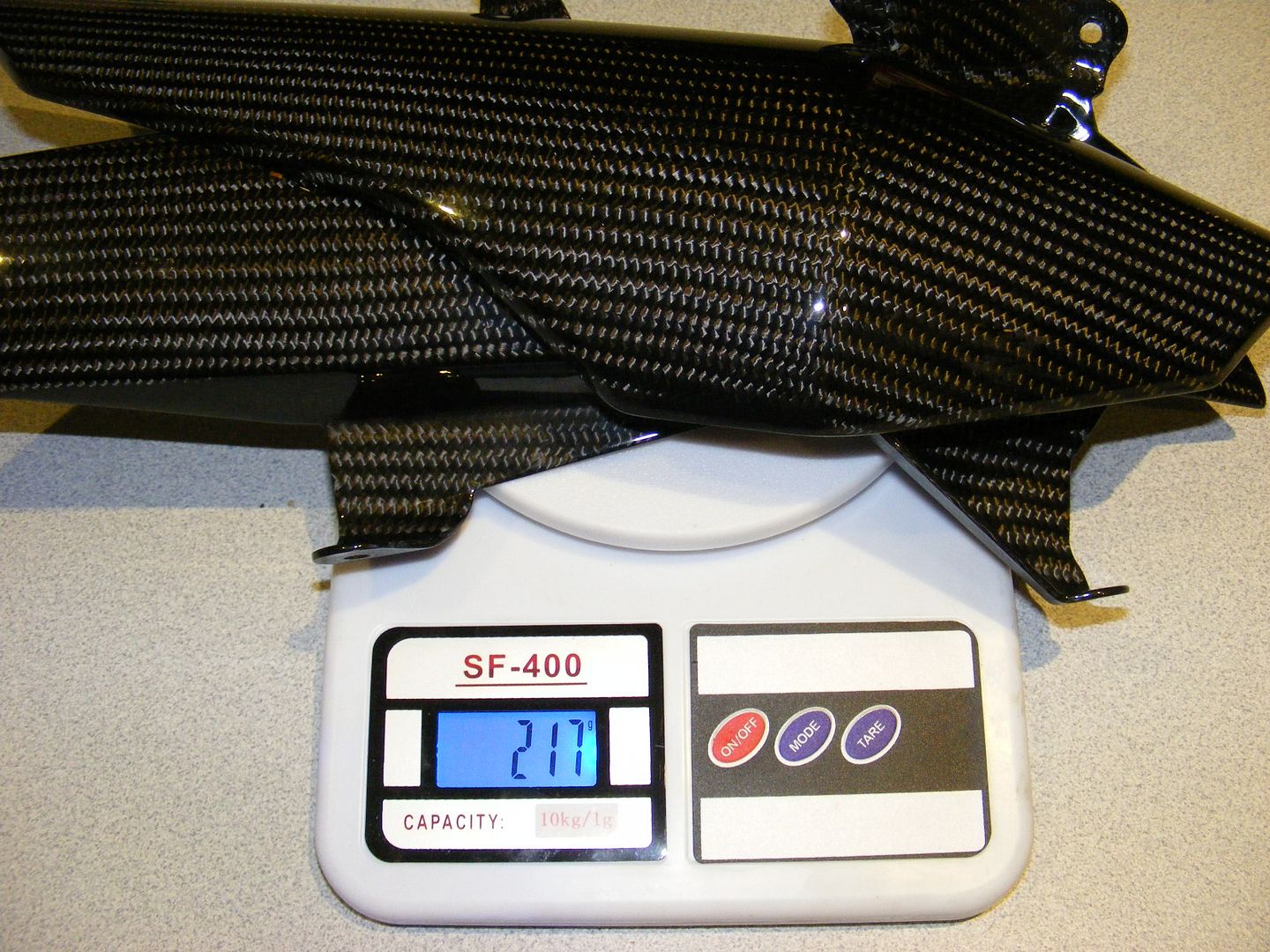 The weight saving when fitting the STM slipper clutch.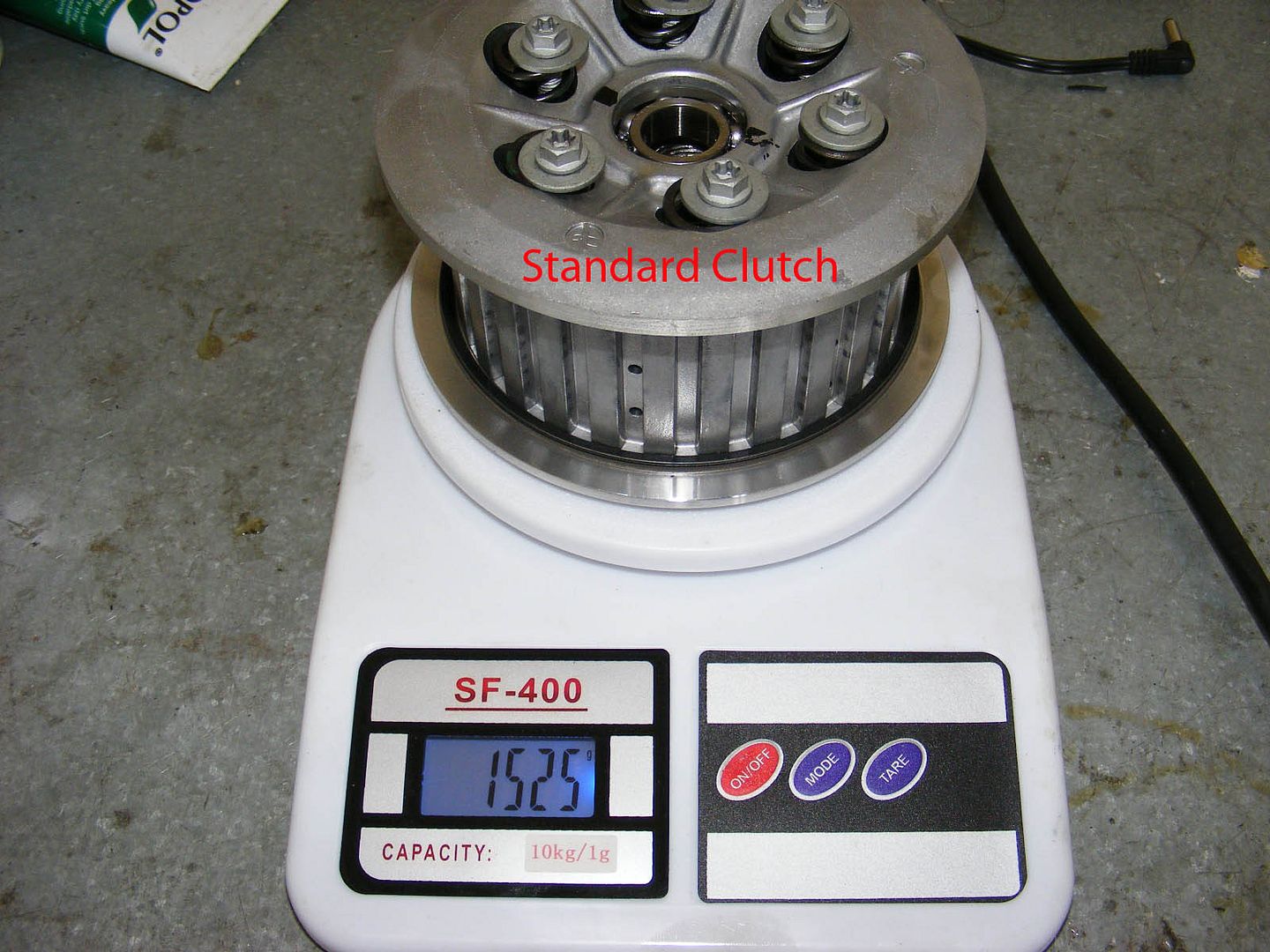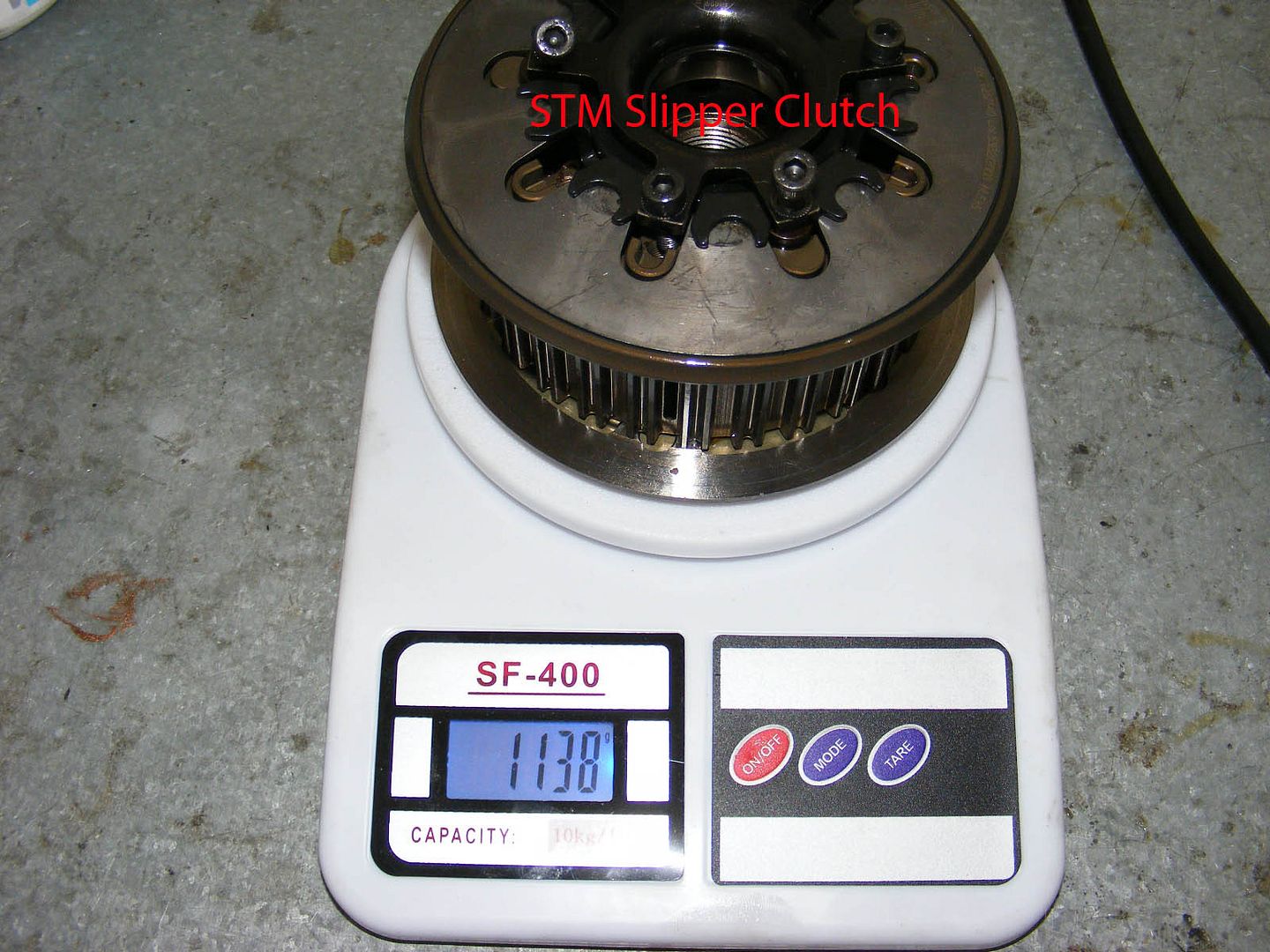 Complete standard air box weight.
DNA MK3 air box weight.
2nd flies + shafts removed.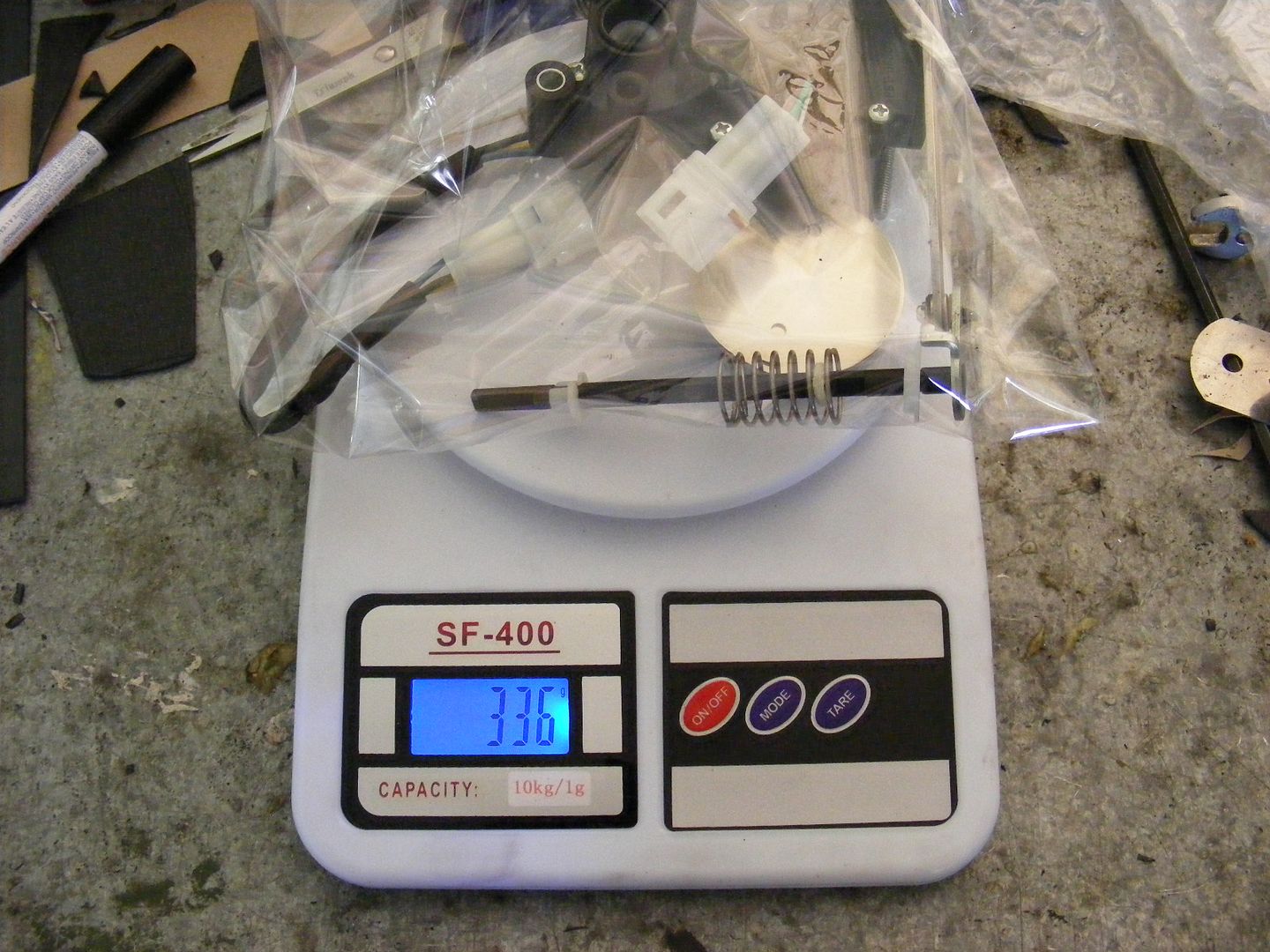 SAS system removed.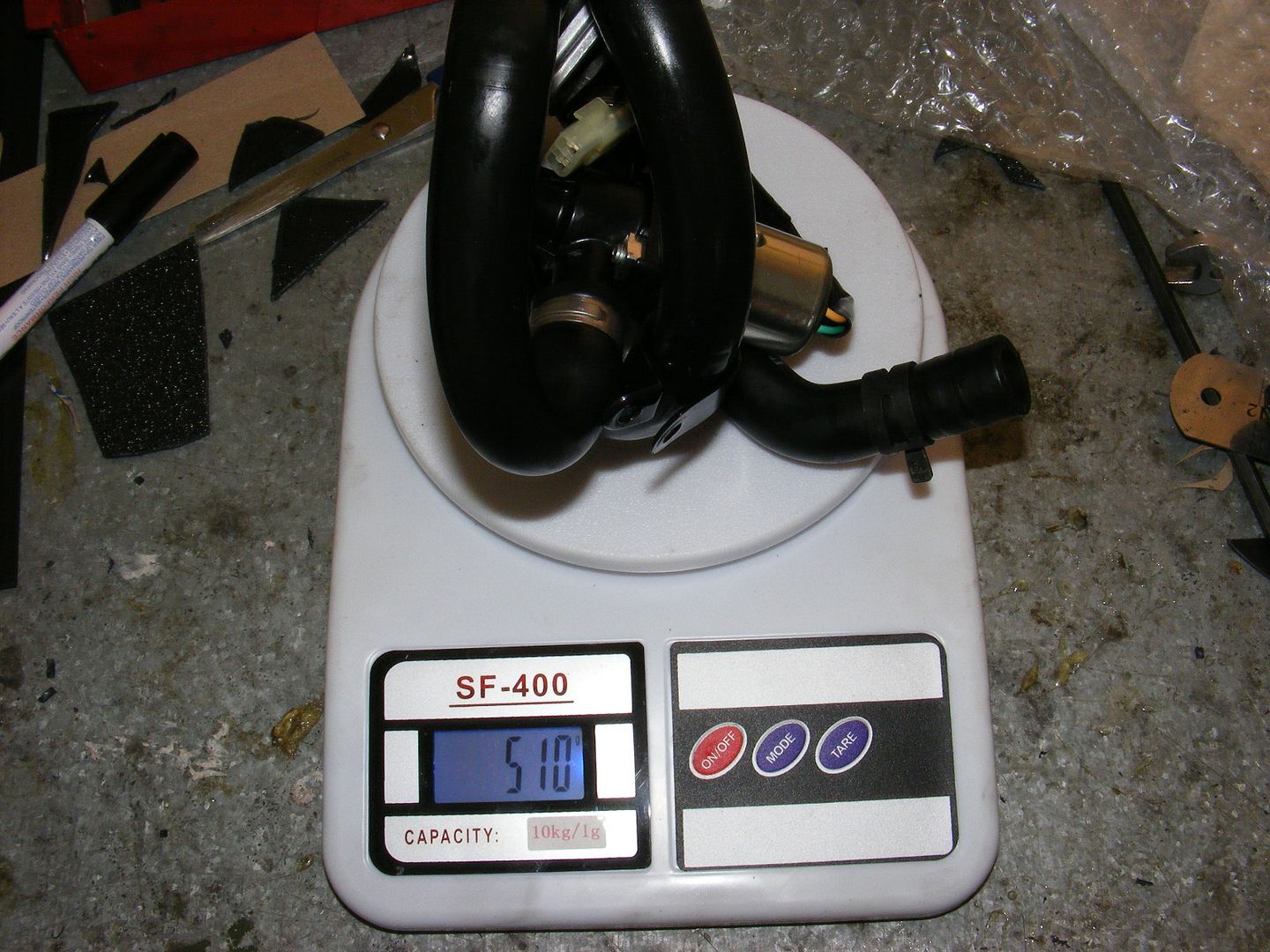 The SMT complete head light weight, I was surprised how light it was.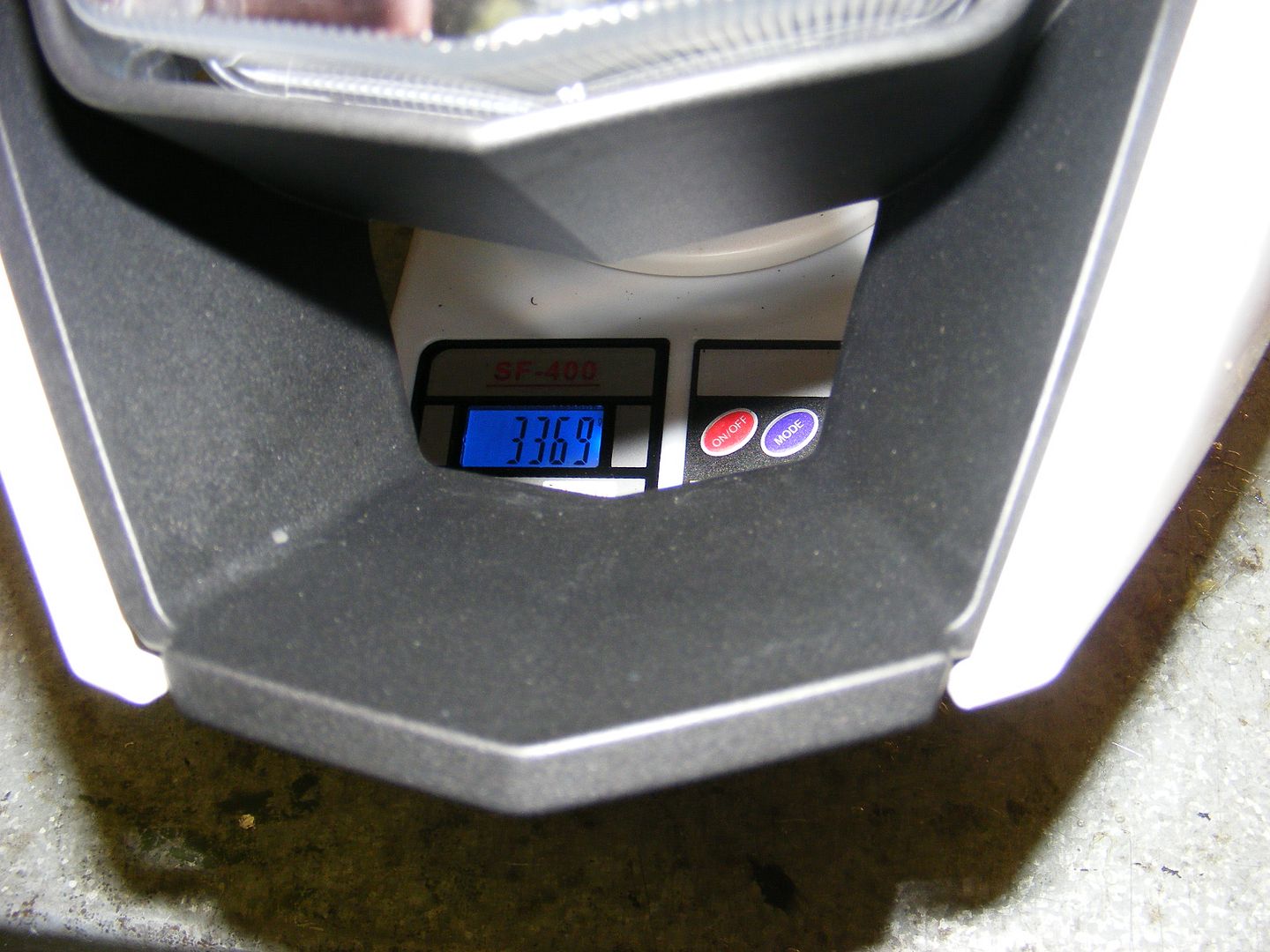 My new 43T rear sprocket arrived today save a bit of weight, also forgot to weight my hand guards.
New 43T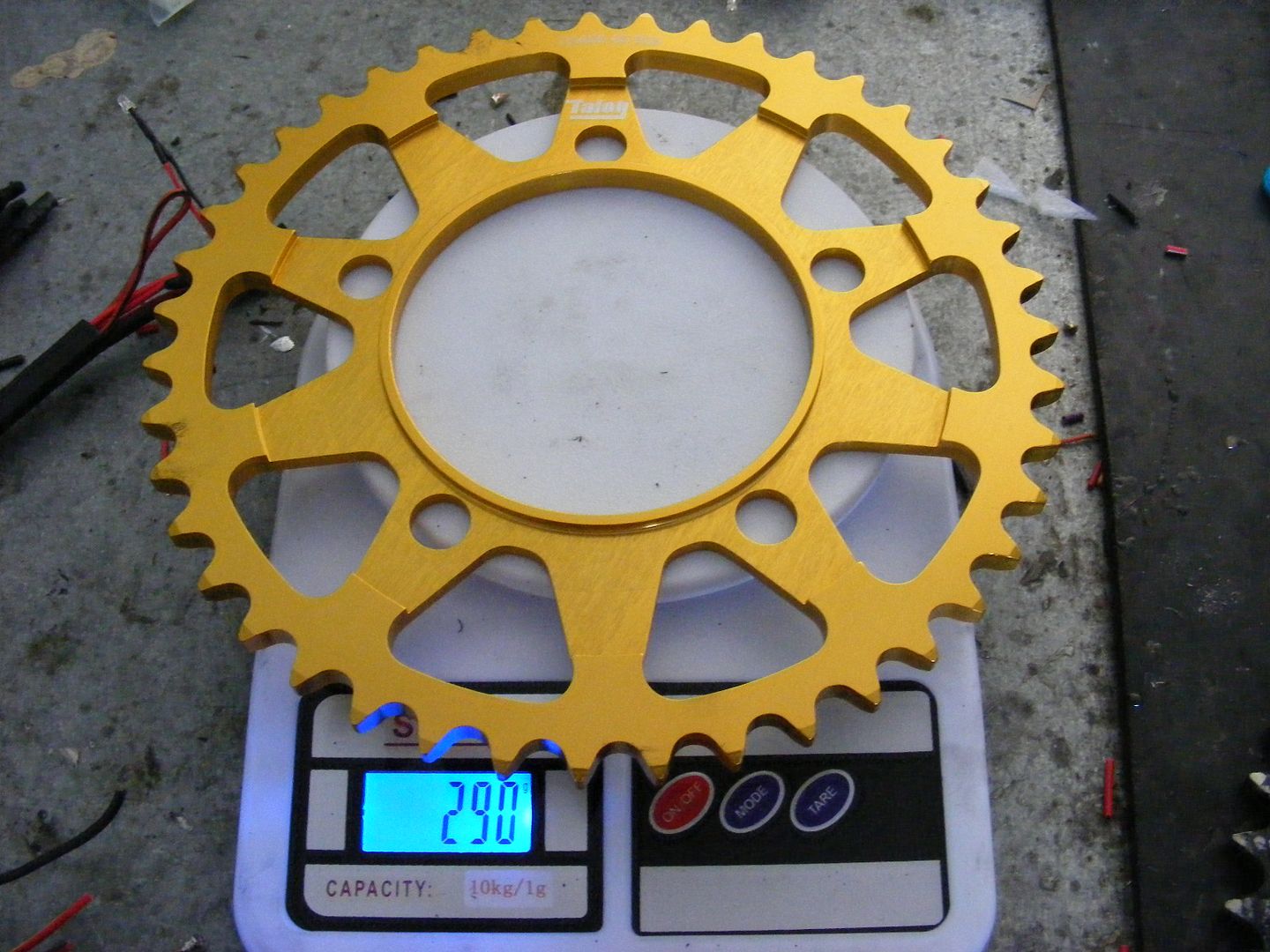 Old 42T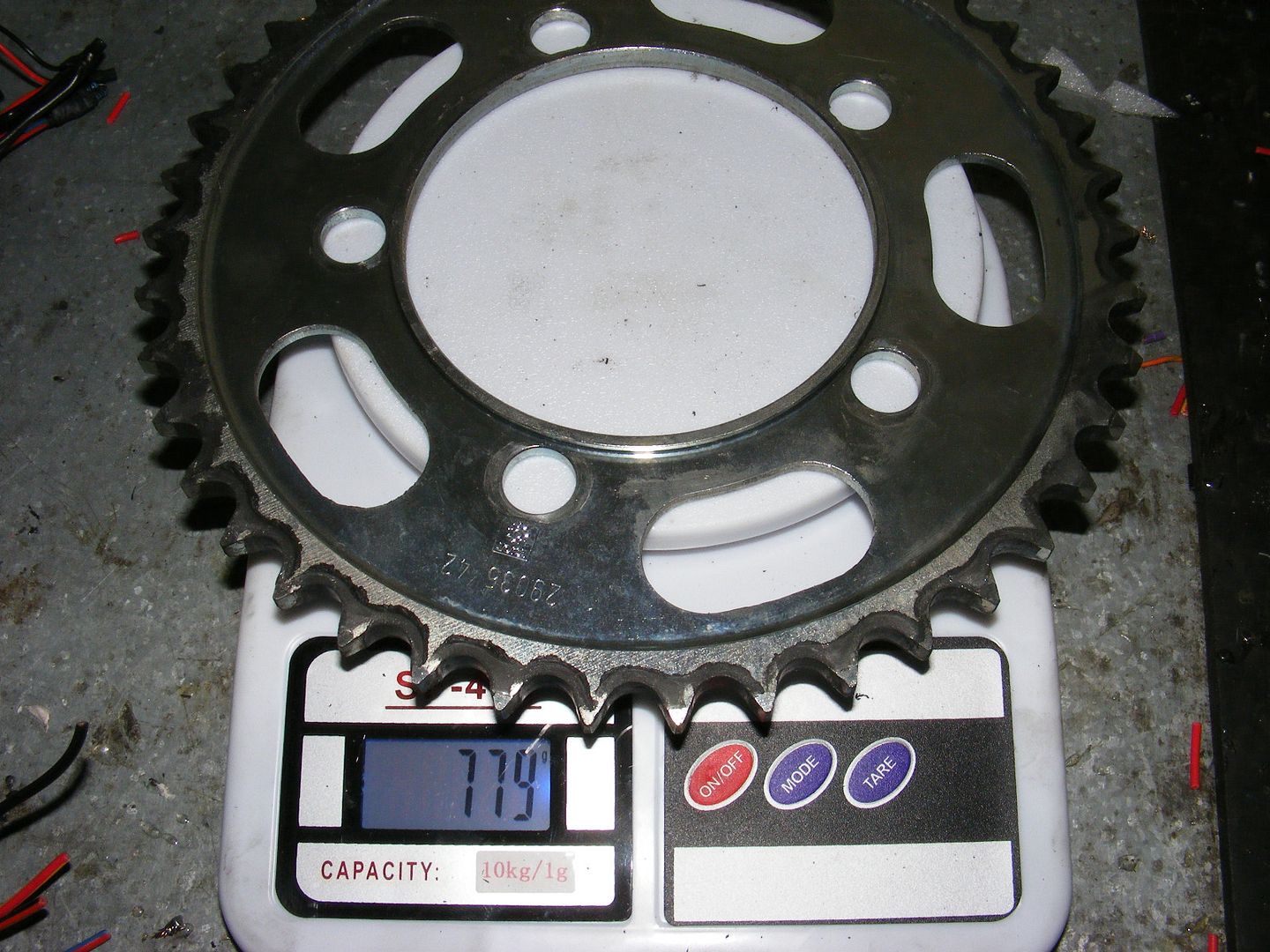 Hand guards
Weight results
Battery = 2966g
Rear pegs
Heat shields = 2545g
Clutch = 387g
Air box DNA = 970g
2nd flies + shafts + motor = 336g
SAS system with valve = 510g
Rear sprocket = 489g
hand guards = 481g
Leo Cans after repacking = 5000g
Total savings so far = 13684g
The weight saving is almost the same as running full tank of fuel compared to an empty fuel tank of fuel.
I still have to weight the head light I fitted.